About Microsoft Certifications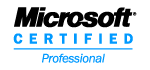 Microsoft certifications represent a rich and varied spectrum of job roles and responsibilities. Embraced by industry professionals worldwide, Microsoft certification remains one of the most effective ways to reach long-term career goals, and it is a surefire way for companies to develop and retain valuable IT staff.
Microsoft certifications include:
MCP (Microsoft Certified Professional) Certification
MCTS (Microsoft Certified Technology Specialist) Certification
MCITP (Microsoft Certified IT Professional) Certification
MCPD (Microsoft Certified Professional Developer) Certification
MCDST (Microsoft Certified Desktop Support Technician) Certification
MCSA (Microsoft Certified Systems Administrator) Certification
MCSE (Microsoft Certified Systems Engineer) Certification
MCDBA (Microsoft Certified Database Administrator) Certification
MCAD (Microsoft Certified Application Developer) Certification
MCSD (Microsoft Certified Solution Developer) Certification
MCSD (Microsoft Certified Solution Developer) .Net Certification
To learn more about Microsoft Certificatons, click Here.
Pearson VUE Testing Centers
Register with Pearson VUE: The easiest way is to visit http://www.microsoft.com/learning, sign in, find the exam you want to take, and click the "Schedule with Pearson VUE" button. Pearson VUE's registration is integrated with the Microsoft system so no additional logins are needed. Appointments may be made in advance or on the day you wish to test, subject to availability. Pearson VUE also offers scheduling by phone and directly through the test center, but you must create a profile on http://www.microsoft.com/learning before you can use these additional scheduling options. Creating a profile is a one-time requirement.
Microsoft Exam Vouchers
Microsoft Voucher is also known as Microsoft Exam Voucher, Microsoft Test Voucher, or Microsoft Discount Voucher.

Microsoft Exam Voucher is a discounted, pre-paid Exam ticket ID that you purchase ahead of time for less money than you would pay at the test center. Using a Microsoft exam discount voucher is a great way to save money and SuperVoucher saves you the most.

Our Microsoft exam vouchers can be used for ANY Microsoft 070-xxx, 071-xxx, 074-xxx, 075-xxx, 076-xxx, 078-xxx, 083-xxx, and MBx-xxx series exams. One Microsoft exam voucher is good for one exam only.

Microsoft exam vouchers can be redeemed at all authorized Pearson VUE testing centers in US and Canada. International Vouchers are NOT available.

Through our Super-Express-Services program, you will be able to get the Microsoft exam voucher just within few minutes after placing an order. Microsoft exam vouchers are Non-Refundable. Please read the Fine Print before purchase.
Order Microsoft Exam Voucher
North America Voucher
Voucher Expiry
Regular
On-Sale
Add To Cart
Microsoft with Free 2nd Shot * (VUE, Early Expiry)
2015/12/12

$150

$99.95

Microsoft with Free 2nd Shot * (VUE, Early Expiry)
2015/12/20

$150

$105.95

Microsoft with Free 2nd Shot * (VUE, Early Expiry)
2015/12/31

$150

$109.95
* Microsoft Free 2nd Shot program is back ! Get a free retake if you don't pass on your first attempt. More Details >>
Saving Pack - Transcender Practice Exam
(Details)
& Voucher Bundle
Transcender Practice Exam Saving Pack
Regular
Bundle-Sale
Add To Cart
One Transcender Download & One Microsoft with Free 2nd Shot Voucher
$289
$170.95
One Transcender 30 Day Online & One Microsoft with Free 2nd Shot Voucher
$259
$154.95