CompTIA A+ Exam Voucher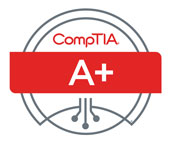 CompTIA A+ Voucher is also known as CompTIA A+ Exam Voucher, CompTIA A+ Test Voucher, or CompTIA A+ Discount Voucher.
CompTIA A+ Exam Voucher is a discounted, pre-paid exam ticket ID that you purchase ahead of time for less money than you would pay at the test center. Using a discount A+ exam voucher is a great way to save money on your CompTIA A+ certification and SuperVoucher saves you the most.
CompTIA A+ 900 Series Exams
Testing Centers - Pearson VUE
Our VUE A+ Exam Vouchers are redeemable at Pearson VUE testing centers only. CompTIA exams are delivered exclusively with Pearson VUE, and no longer available at Prometric testing centers. Please make sure of the testing center you are going to take your CompTIA A+ exam before purchasing the A+ exam voucher.
You may locate a Pearson VUE testing center near you.
CompTIA 2 A+ Exam Vouchers Super Bundle